Entretenimiento
El mundo del espectáculo lamenta la muerte de Robin Williams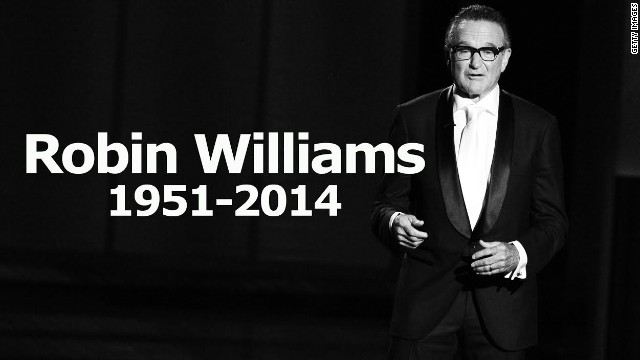 (CNN Español) -- En cuanto se confirmó la noticia de la muerte del actor Robin Williams, las celebridades colmaron las redes sociales con sus manifestaciones de tristeza.
La etiqueta #RIPRobinWilliams se convirtió rápidamente en tendencia mundial en Twitter y otros hashtags son los títulos, personajes o citas de sus películas, como Mrs. Doubtfire, Flubber, My Captain (Dead Poets Society), What Dreams May Come y Good Morning Vietnam.
Estos son algunos de los mensajes:
https://twitter.com/luisfonsi/status/498973850601013250
Ellen DeGeneres: "No puedo creer la noticia sobre Robin Williams. Le dio mucho a mucha gente. Estoy descorazonada".
Barack Obama: "Robin Williams fue aviador, doctor, genio, niñera... y todo entre eso. Pero era único".
https://twitter.com/CuaronAlfonso/statuses/498974076049059840
Miley Cyrus: "No puedo soportar la noticia sobre Robin Williams. Nunca había llorado por alguien que no conocí pero no puedo parar".
Lindsay Lohan: "El señor Williams me visitó en el primer día de filmación de The Parent Trap. Nunca olvidaré su amabilidad. Qué gran pérdida. Mis condolencias".
Katy Pery: "Muy triste por Robin Williams".
Neil deGrasse Tyson: Mork de Ork: Rara evidencia que los extraterrestres pueden ser inteligentes, astutos y graciosos".
Kathy Griffin: "Conocí al dulce, generoso y brillante hombre Robin Williams en 1991".
Jenny McCarthy: "Que en paz descanse uno de los actores cómicos y dramáticos de nuestro tiempo. Te extrañaremos".
Mia Farrow: ¡No! Robin Williams fuiste muy querido.
Josh Gad: "Mi héroe. Mi ídolo. Mi amigo. Estoy enfermo y asombrado. Adiós Goodbye #RobinWilliams".
Lance Armstrong: "Que en paz descanses Robin. Siempre te recordaré como un gran amigo. Te quiero y te extrañaré terriblemente".
El equipo de trabajo de Plaza Sésamo recordó al actor que sacó múltiples sonrisas a los que trabajan a su lado.
El actor Morgan Freeman comentó que Williams se ha ido pero que "nunca será olvidado".
Sarah Michelle Gellar, la ex Buffy la cazavampiros, que trabajó con Williams en la serie The crazy ones, hizó un collage en su memoria.
Michael J. Fox, protagonista de la exitosa saga Volver al Futuro, tuiteó sobre la muerte del ganador del Oscar:
La actriz Eva Longoria se unió a la pena de quienes admiraban el trabajo de Williams:
El comediante Steve Martin dijo que no podía creer la noticia de su compañero de trabajo.
Otro comediante, Steve Carell, dijo que el trabajo de Robin hacía del mundo un mejor lugar para vivir.
Jimmy Kimmel, comediante y presentador de televisión, también lamentó el fallecimiento del actor.
La famosa cantante internacional Cher también tuiteó sobre el hecho:
El ex Beattle, Ringo Starr, le dijo adiós a Robin en su tuit:
El líder de la banda 30 seconds to Mars y reciente ganador del Óscar Jared Leto se unió a la pena de la pérdida de Williams:
El rockero y ahora actor Lenny Kravitz subió una foto con Robin Williams a través de su cuenta de Instagram:
Con información de CNNMéxico.com